There is no limit to the number of different kinds of safaris that can be taken in Africa. However, before you begin your strategy, there is a significant question to which you need to respond. Are you prepared to go on a safari in which you drive yourself?
What Exactly is a "Self-Drive" Safari?
A self-drive safari is one in which you, the passenger, are responsible for driving the vehicle yourself, as the title suggests. On a basic camping safari, you get behind the wheel of a car and head out into the wilderness. This type of safari does not include any extra frills. A car with two-wheel drive is enough for travel throughout parts of South Africa, particularly Kruger National Park because the majority of the park's roads are paved or maintained regularly. A four-wheel-drive vehicle is anywhere between strongly recommended and necessary for just about every other part of the country, including the Kgalagadi Transfrontier Park, which is shared by South Africa and Botswana.
If you do decide to go it alone with a four-wheel drive vehicle, you should include a familiarization course in your plans. This can be in the form of a refresher course for those who already have some experience or a beginners' training session for those who have never driven a 4WD before, ideally, in the car, you intend to travel in.
A Safari Experience Unlike Any Other in South Africa
There are a lot of rental firms that provide four-wheel-drive campers. These typically come with everything you require to be completely self-sufficient, such as a rooftop, tent, or pop-top with a sleeping area on the rooftop, and some even have a combination of the two. In addition, there are refrigerators, a gas stove, cooking utensils and silverware, blankets, camp chairs and tables, and culinary equipment.
Although the initial costs for such cars can be considerable (beginning at approximately R2 400 per day and frequently reaching considerably higher), the presumption is that you are paying for both transportation and housing in a single payment. When this occurs, the only added expenses are those associated with camping (including fees for national parks) and food, which can be purchased at a supermarket; nonetheless, these two additional expenditures are often inexpensive in the majority of African countries.
These kinds of automobiles can be rented from a variety of companies, some of which are Avis Safari Rentals, Britz, and Bushlore. Drive Botswana is an even better option because it not only rents out cars from these and other firms but can also book campsites and other accommodations on your behalf. This mode of transportation is considerably simpler to organize in southern Africa in comparison to East Africa.
At the top range of the self-drive marketplace, there are choices for individuals who want to experience the excitement of driving off-road, stay in more opulent lodges and tented camps, and allow someone else to make all of the preparations. These possibilities are available for people who wish to have the best of both worlds. When it comes to the organizations that provide this service, Safari Drive is the best option.
SafariBookings is an excellent tool for evaluating different self-drive choices, as well as organized safari trips offered by a large number of different tour operators. This can aid you on your journey.
What Are the Advantages of Going on a Safari by Yourself?
Imagine that you have spent your entire life putting money aside for that once-in-a-lifetime opportunity to go on a safari. You're in Africa, and you've been searching for lion prides with young cubs, and finally, you've found one. You have no problem riding in the safari vehicle provided by the camp alongside the other guests.
Then one of the guests believes that it is time for them to move on to other things. Nothing would make you happier than to remain here for another five minutes, or perhaps another hour. As soon as the guide starts the vehicle, you are compelled to leave the lions in the dust. This will not occur while you are on a self-drive safari because you will have complete control over when and where you travel. This freedom will follow you around to every destination on your tour.
The Low Cost is Still Another Significant Advantage
In nations like Botswana, where organized excursions and safari camps may be quite pricey, travelers with more limited budgets have the opportunity to experience some of the region's best wildlife areas by sleeping in campsites. When driving in deep sand, the front wheel of a Toyota Land Cruiser begins to spin, scattering sand in all directions.
What Are Some of the Drawbacks of Doing a Self-drive Safari?
To begin, you are the one responsible for all of the navigating. Although many businesses offer satellite navigation devices as a helpful tool, it is essential to be able to understand paper maps and understand traffic signs. If something goes wrong while you are on a self-drive safari, it is up to you to figure out how to handle the situation. This can necessitate coordinating repairs with the rental office or waiting for a backup rental car to be brought to you, in which case you will need to contact the rental office.
In the extremely improbable event that you find yourself in a precarious situation, it is your obligation, and your obligation alone, to make sure that you are carrying an adequate supply of supplies as well as a satellite phone. This means that you will need to give more serious consideration to and make more preparations for a safari of this type than you ever will for an organized tour.
A self-drive camping safari typically does not offer a high level of comfort unless you are staying in luxurious accommodations the entire time. You'll be responsible for preparing your meals, sleeping on thin cots or camp mattresses, and having a more rustic experience in general out in the wilderness.
What Are Some of the Alternatives to Going on a Safari Where You Drive Yourself?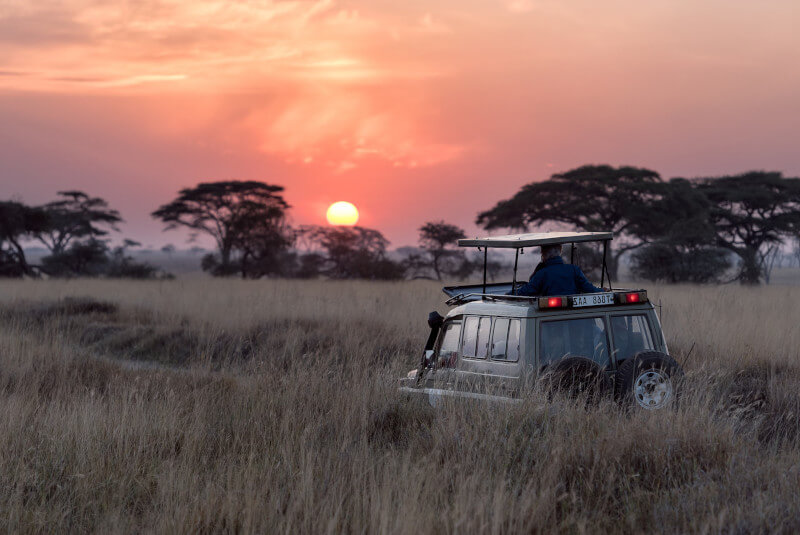 High-end organized trips are at the other end of the spectrum from self-drive safaris. These programs place a premium on comfort and offer little in the way of opportunities for independent exploration.
There are an infinite number of variations of organized tours that vary based on your finances and interests, such as whether you are okay with sleeping in a tent each night or whether you would rather lay your head down in an ultra-luxurious and completely private tented camp each night instead.
These will change depending not just on where you would like to go, but also on how you would like to get around once you get there, whether it be in a high-specification Land Rover, a light aircraft, or a plain minibus.
The vast majority of organizations that offer safaris demand a certain minimum amount of paying customers, and the most reputable ones only operate with small groups. Although some will provide pricing from your airport of departure, it may be more cost-effective for you to book your tickets and join the other people in the group at the local meeting spot. The majority of safari packages cover all of your expenses, including meals, lodging, activities, and transportation.
What Are the Advantages of Going on a Safari That's Already Been Organized?
The benefits of going on a safari that's been organized should be evident. The most important of these is the fact that your job to make decisions is finished as soon as the reservation is made. In most cases, you won't need to give any attention to the logistics of the safari throughout any part of it, from the time you touch down until the time you take off again. You'll be able to select your ideal safari experience from what feels like an infinite number of available possibilities before you hand over any of your hard-earned cash.
There is some substantial luxury available at several makeshift tents and lodges, although the degrees of comfort will normally be much greater the more you are willing and capable of paying. The safari sector has created a name for spoiling individuals who go on safari. In spite of the fact that you are unable to have any influence over the other tourists on your safari, many people who go on safari end up forming lifetime friends if they are fortunate enough to experience the safari routes with other tourists who have similar interests.